In addition to the FREE guitar instruction PDF books and web applications, you can also purchase the books and CD at Amazon!
Guitar Instruction Tools by Cary:

Complete Guitar Essentials -PDF
The Complete Guitar Personal Instruction Program provides everything from chords,
rhythms, lead, theory, tablature to note reading and playing classical. 
By the time you finish the course you can play just about anything. 
Dowload the Free PDF file or go to Amazon to puchase the kindle or book version of the course.
---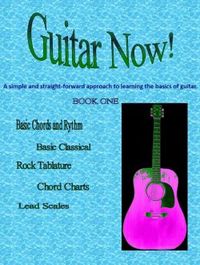 Guitar Now for Beginners is a book and web app that has big graphics,
and easy to start lessons and songs.  Ideal for children or non-musically
inclined.